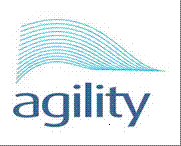 Agility is an extremely easy-to-use yet powerful computerised maintenance management system (CMMS). Instead of having to pay hefty costs for a package with all the bells and whistles, Agility is a system that moulds to the way people work, ensuring better utilisation of the technology. The scope of Agility has been focussed on the 20% of features that deliver 80% of the benefit, with the flexibility to scale up dependent on the company's specific business requirements.

For any business today, it is important to have a centralised view of all maintenance operations. Without it, maintenance managers may as well be blindfolded. They won't be able to see readily what work has been done, or what needs to be carried out and the labour available.

Agility enables maintenance managers to see what work needs to be scheduled and analyse who has the relevant skills to carry out the work. They can review work on-the-fly, schedule the workforce including contractors and resolve rapidly new work order requests. External suppliers and contractors can even access the system through a unique website log-in that can be set up. They can then see what work has been scheduled to them and carry it out accordingly.

Some of Agility's key features and benefits include:

Comprehensive – the complete maintenance solution
Agility is designed around the real needs of today's maintenance departments. Core functionality includes:Equipment and asset management Help desk/work requests Work orders Preventive maintenance Inventory and spare parts Employee allocation and resourcing Powerful scheduling Customised reporting Mobile PDA

Easy to use – highly intuitive
Agility is simple and straightforward to use. Consistent navigation means that even novice users quickly feel at home – so training costs are minimised.
The system's advanced functionality helps users at every level. For instance, powerful selection criteria make it quick and easy to find records. The right level of information is delivered to staff in exactly the right way – including critical key performance indicators (KPIs).Highly consistent navigation means the user interface is the same throughout the whole system KPIs can be configured on the main dashboard to give live feedback on critical maintenance statistics Quick filtering, sorting and column moving

Inexpensive – cutting-edge technology at an affordable price
Agility means an end to overcomplex technology that you don't need for day-to-day maintenance management tasks.
Agility may be low cost, but its functionality more than meets your requirements. We've used over 20 years' experience as a market leader to deliver new technology that works the way you want it to.A cost-effective, focused maintenance management solution Less than a third of the price of traditional maintenance systems Costs less than £600 per seat for advanced browser-based IT Agility is a SoftSols Group brand – an industry leader in maintenance IT with over 20 years' industry experience Agility is built using the latest proven technologies from Microsoft, including Microsoft .NET. Microsoft SQL Server 2005 Express Edition for small to medium businesses is included at no charge

Browser-based – accessible anywhere
Agility is an advanced browser-based maintenance management solution. Your employees, customers and suppliers gain access to the right information at the right time.Agility can be accessed by anyone with a PC or other device using a web browser. There's no need to install any new software. It's a simple, elegant and highly cost-effective solution – with a zero footprint You can manage your maintenance functions and work order scheduling far more effectively Out-based engineers, contractors and third parties can give and receive real-time information while on the move – and that means better service

Flexible and easy to customise – completely configurable
Agility is a powerful, flexible system that shows you exactly what you need to know to get the job done. It's so flexible, screens can be designed to show information relevant to a single individual. Users can even define their own personalised menus Redundant data can be removed and new fields added to reflect specific user requirements Data-driven templates mean that Agility can change as your organisation changes The look and feel of each screen can be unique to your operation – so it fits perfectly with the way you prefer to work Agility can also be seamlessly integrated with your customers' or suppliers' IT systems Customer branding and in-house styling gives you a powerful tool to strengthen client relationships

Boosts productivity – improve your service levels!
Agility helps you strengthen all areas of your maintenance function. All parts of the maintenance value chain – the customer, your engineers and subcontractors – can now access the right data at the right time, even on the move. Every user can have their own KPI charts configured to give live feedback on critical maintenance issues. That means you can react immediately to situations such as overdue work orders Merging your business processes with those of your customers is vital in today's competitive market. Agility lets you do it – seamlessly. Production, Operations, your management and your customers can always be kept informed about work in progress Less time is spent on problem resolution, as the status of a particular job is always known

Mobile and accessible anywhere
Agility puts the advantages of Microsoft .NET technology right at the heart of your maintenance processes. Defined web links and in-line HTML frames driven by key data mean that your people are only a couple of clicks away from all relevant data Browser-based technology means that Agility is available to your other departments, customers and third parties Powerful security features restrict access to only the personnel you choose Lets you leverage the latest PDA and mobile computing devices, removing the need for printed work orders and paperwork